Virtual Seminar Series
A resource to support career development by providing opportunities for trainees and early career investigators to deliver professional talks to an audience of peers and colleagues through online seminars. Our goal is to provide a resource for Sleep Research Society members at all levels of training to get continued exposure to new and exciting sleep and circadian research methods and findings.
Interested in hosting a seminar or nominating someone to host a seminar? Email coordinator@srsnet.org!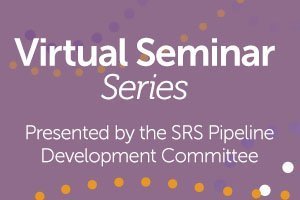 Past Seminars
Member login required to view
Date and Time: January 25, 2022 at 2:00 pm, ET
Speaker: Jimmy Dooley, PhD
University of Iowa
Title: "Sleep & The Development of Motor Control in Motor Cortex"
Date and Time: February 22, 2022 at 2:00 pm, ET
Speaker: Jessica C. Levenson, PhD
University of Pittsburgh School of Medicine
Title: "Sleep & Gender Minority Youth"
Date and Time: March 29, 2022 at 2:00 pm, ET
Speaker: Galit Levi Dunietz, PhD, MPH
University of Michigan
Title: "Sleep & Cognitive Health"
Date and Time: April 26, 2022 at 2:00 pm, ET
Speaker: Jaime Knudsen Devine, PhD
Institutes for Behavior Resources, Inc.
Title: "Sleep & Biomathematical Modeling of Fatigue"
Date and Time: August 30, 2022 at 2:00 pm, ET
Speaker: Elissa K. Hoopes, PhD
University of Delaware
Title: "Sleep & Cardiovascular Health in Young Adulthood"
Date and Time: September 27, 2022 at 2:00 pm, ET
Speaker: Tamara Taporoski, PhD
Northwestern University
Title: "Sleep & its Micro- and Macro-Architecture in an Epidemiologic Study in Brazil"
Date and Time: October 25, 2022 at 2:00 pm, ET
Speaker: Bruno Saconi, PhD, MA, RN
Geisinger
Title: "Sleep & Chronic Pain"
2021
Date and Time: January 26, 2021 at 2:00 pm, EST
Speaker: Veronica Guadagni, PhD
University of Calgary, Cumming School of Medicine, Physiology and Pharmacology Department
Title: "Sleep & Emotions"
Date and Time: February 23, 2021 at 2:00 pm, EST
Speaker: Cassie J. Hilditch, PhD
San José State University
Title: "Sleep & Sleep Inertia"
Date and Time: March 30, 2021 at 2:00 pm, EST
Speaker:Nancy H. Stewart, DO, MS
University of Kansas Medical Center
Title: "Sleep in the Hospital Setting"
Date and Time: April 27, 2021 at 2:00 pm, EST
Speaker: Diego R. Mazzotti, PhD
University of Kansas Medical Center
Title: "Sleep & Informatics"
Date and Time: May 18, 2021 at 2:00 pm, EST
Speaker: Zlatan Krizan, PhD
Iowa State University
Title: "Sleep & Personality Differences"
Date and Time: June 29, 2021 at 2:00 pm, EST
Speaker: Thiru Kanagasabai, PhD
McGill University
Title: "Sleep & Household Air Pollution"
Date and Time: July 27, 2021 at 2:00 pm, EDT
Speaker: Susan T. Harbison, PhD
National Heart Lung and Blood Institute
Title: "Sleep & Gene Networks"at 2:00 pm, EDT
Date and Time: September 28, 2021 at 2:00 pm, ET
Speaker: Amrita Pal, PhD
UCLA School of Nursing
Title: "Sleep Apnea & Meditation"
Date and Time: October 26, 2021 at 2:00 pm, ET
Speaker: A.J. Schwichtenberg, PhD
Purdue University
Title: "Sleep & Autism"
Date and Time: November 30, 2021 at 2:00 pm, ET
Speaker: Elaine Boland, PhD
University of Pennsylvania
Title: "Sleep & Reward Processing"
2020
Date and Time: September 29, 2020 at 2:00 pm, EDT
Speaker:Andrew Beaudin, PhD
University of Calgary
Title: "Sleep Apnea & Cognition"
Date and Time: October 27, 2020 at 2:00 pm, EDT
Speaker: Jennifer Goldschmied, PhD
University of Pennsylvania
Title: "Sleep & Mood""
Date and Time: November 24, 2020 at 2:00 pm, EDT
Speaker: Andrea Spaeth, PhD
Rutgers University
Title: "Sleep & Health Outcomes"